Eight young adults returned to Belize this week to experience the culture and see where members of the Viatorian Community minister. Assistant Vocations Director Bart Hisgen worked with Br. John Eustice and Fr. Moses Mesh to plan their week's visit.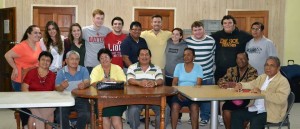 Participants included: Tommy and Anthony Gugino, Shanel Sako, Rebecca Lychock and Emily Glasgow from St. Viator Catholic Community, and Brittney Cameron from St. Thomas More Catholic Community, both in Las Vegas; as well as Danny Wolfe and Nick Smeriglio, both alums from Saint Viator High School in Arlington Heights.
During their visit, the young people are staying with host families while spending much of their time meeting and helping parishioners of St. Francis Xavier Church in Corozal. Their first project included painting a school building along side of other young people from Corozal.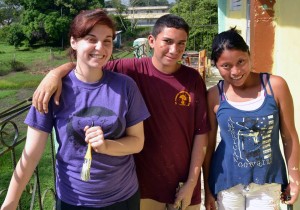 Participants have the opportunity to dialogue and pray with young adult Belizeans about life and faith while connecting into some of the ministries the Viatorian Community animates.
Another immersion trip in Belize takes place in June. Contact Bart Hisgen if interested, at: BHisgen@viatorians.com.