Fr. Richard Pighini, CSV, celebrated a closing Mass at a recent retreat for students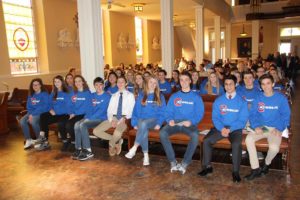 preparing for confirmation. But the liturgy had a distinct look about it.
At first glance, it looked like leaders of the recent confirmation retreat were wearing Chicago Cubs T-shirts. A closer look, however, revealed a slight tweak on the familiar logo, with the 'C' enlarged for Catholic and the 'W' on the back as part of the expression, "Fly the W with God."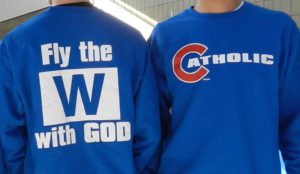 Patty Bailey, youth ministry director at the parish, designed the shirts and they sparked so much joy in the students — and their families — that requests have been coming in to order more.
It's all part of the faith formation efforts at the church and of building community, says Fr. Jason Nesbit, associate pastor and die-hard St. Louis Cardinals fan.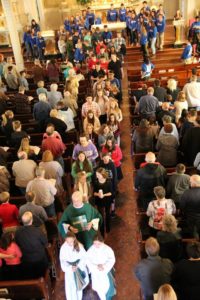 "Even I have the Cubs to thank for making a lot of people happy – and raising peoples' spirits," Fr. Nesbit said. "Besides, in a fun way, people are enthusiastic about expressing their Catholic faith."