In the Viatorian Community, Associate John Ohlendorf is something of a pioneer, as one of the first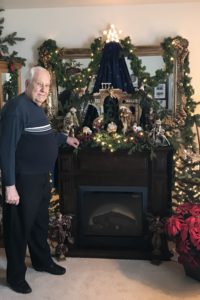 lay associates, dating back to 1999. But he also holds another distinction, as a collector of nativity sets.
By his own estimate, this former high school English teacher, figures he owns more than 150 sets, dating back to the first one he received back in first grade.
"For as many as I have displayed, I probably have two to three times that many stored away," Ohlendorf says.
Ohlendorf started his collection more than 50 years ago, when he traveled to Europe and purchased a set with hand-carved wooden pieces in Switzerland. Since then, he has purchased nativities all over the world.
"Each one is different," he says, "and reflects the people and culture from where they were made. That's what I find so fascinating. I love their craftmanship and beauty in recreating the holy family. They just speak to me."
Among this year's collection that Ohlendorf has displayed, is a traditional German set with Marolin paper maché figurines that are hand painted and personalized to give each figure its unique character and vitality.
One of his favorites are the large, carved wood terra cotta figures of the holy family, manufactured by Anri in Italy and representative of the Neopolitan Presepio, in which every piece is a finely crafted work of art.
Ohlendorf shares his love of this Presepio-styled nativity scenes with his pastor, Fr. Richard Pighini, CSV, who displays his elaborate Neopolitan Presepio every year on a side altar at Maternity BVM Church.
That's not all Ohlendorf shares with the Viatorians.
"I value the same things they do," he says, "of service to the holy altar, education and reaching out to those accounted of little importance."