Two weeks after Pope Francis held a rally for students in the middle of Bogotá — where he
told them to "dare to dream big" and "Colombia needs you" — the Archbishop of Tunja, Luis Augusto Castro, followed up with a visit of his own to meet with students at Colegio San Viator in Tunja.
"He came to to engage our students in conversation," says Fr. Pedro Herrera, CSV, president. "The topic was: Challenges to Young People after the Visit of the Holy Father to Colombia."
Br. Juan Carlos Ubaque, CSV, pastoral leader of the school, organized the visit with the help of religion and theology teachers.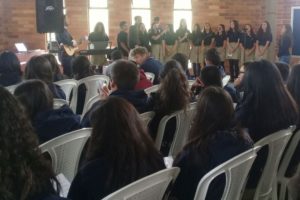 In preparation, students formulated their questions in writing before addressing the Archbishop directly during an assembly.
"The encounter with Archbishop Castro was dynamic," Fr. Herrera said simply.
During the pope's visit, he met with students in the Plaza de Bolívar, located in front of the Cathedral of Bogotá. His overall message was one of peace and reconciliation, which he hoped the young people would champion and advance as future leaders.
"How could you not be capable of changing this society," he asked of them, before adding: "Do not let anyone rob you of joy. Look after that joy which unites everyone."