Confirmation students at St. George Parish in Bourbonnais created something larger than themselves, recently: prayer blankets for residents of area nursing homes.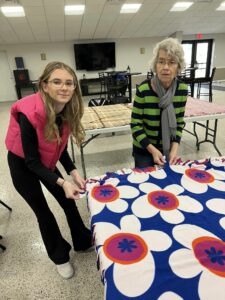 It was all part of their service learning requirement as they prepare for the sacrament of confirmation.
The project took place Sunday in the Fr. Querbes Youth Ministry Center on the parish grounds. Candidates worked alongside adult volunteers to create colorful handtied, fleece blankets. The result was a tapestry of sorts, of vibrant blankets in all different patterns and colors, created by young people with seniors in mind.
In all, they crafted 65 prayer blankets to be distributed by Deacon Milt Leppert and his wife, Juliet, during their rounds at area nursing homes, as part of their ministry.
Fr. Daniel Belanger, CSV, Pastor, stopped in to see the young people creating their blankets, and he characterized it this way: "Jesus was in the house."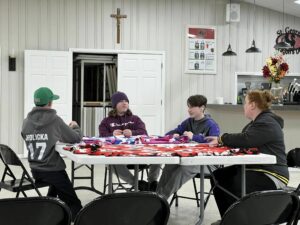 The Fr. Querbes Youth Ministry Center was dedicated in 2017, after a yearlong fundraising campaign and with a grant from the Viatorian Community. The building has four classrooms plus an office and youth ministry room, equipped with a large, flat screen TV, additional audio visual equipment, as well as couches and chairs for youth group and Bible study meetings.
Creating space for youth ministry advances the Viatorian mission, of educating young people and creating communities where faith is lived, deepened and celebrated.
"Studies show that meeting young people where they are, and equipping them with opportunities and experiences leads to a more fulfilling faith journey," Fr. Belanger said, "and will impact them both now and in the future."