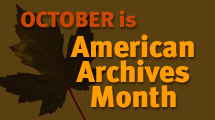 American Archives Month

is a collaborative effort by professional organizations and repositories around the
nation to highlight the importance of records of enduring value.
To celebrate the month I want to showcase something new in the Viatorian Community Archives. So over the month ahead, I will be blogging images from a scrapbook owned by Fr. Thomas E. Fitzpatrick, CSV (1895-1984). The scrapbook is from his years as pastor of St. Viator Parish in Chicago – 1942-1948. There are 19 pages of images.

This scrapbook was uncovered in the residence wing storage room by Br. Don Houde, CSV, just this past week. I was able to scan the pages of the scrapbook and crop out the individual photos and ephemera. The book will be preserved in the archives, but the images can now be enjoyed by all!




I'm hoping that these images will prompt memories that will help in identifying some of the people and the dates. Let me know via e-mail if you have some info on the blog postings to come.

jsweeney@viatorians.com