A tiny little four page pamphlet from over one hundred years ago was found by Fr. Richard J. Pighini, CSV, in Bourbonnais, IL. He sent it to the Viatorian Archives to be preserved.
It is a remembrance of a mission that was given at St. George Church in Melvin, IL by the Rev. Peter F. Brown, CSV and the Rev. J.D. Kirley, CSV from Oct. 5 to Oct. 8, 1913.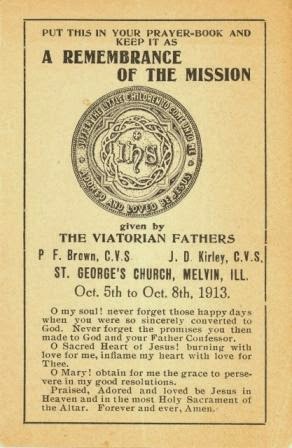 In it are little prayers and advice on how to spend your day in a Christian manner and not get lost in sin – still applicable today. To view the entire pamphlet, click here. I hope you enjoy it!
Remember I am on the lookout for anything Viatorian – keep your eyes out – these materials amazingly still exist.