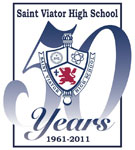 This year marks the 50th anniversary of St. Viator High School in Arlington Heights, IL. Here is a little history of its beginnings taken from the 1981 publication, A History of the Institutions of the Archdiocese of Chicago, Volume I, pp. 582-586:
"In the late 1950's Cardinal Stritch approached the Provincial of the Clerics of St. Viator about the education needs in the northwest suburbs. The Viatorians, priests and Brothers who had served the archdiocese since 1865, were willing to build a school. They owned a parcel of land in Arlington Heights and the archdiocese was willing to give a sizable contribution toward a high school for boys. On October 21, 1961, Cardinal Meyer officiated at the dedication of St. Viator High School located at Oakton and Dryden Streets in Arlington Heights. On September 5 of that year the school opened it doors for the first time to 350 freshman and sophomores." The founding principal was Fr. Francis E. Williams, CSV.
Congratulations to the high school – students and staff – and all the Viatorian confreres who ministered there in the past!!