Tuesday September 1, 2009 was the 150th anniversary of the death of the Viatorian Community's founder, Fr. Louis Querbes. The Chicago/Arlington Heights region of the US Province celebrated at Queen of Heaven cemetery in Hillside, where numerous Viatorians are buried.
St.Viator, the patron of the Viatorians, stands above the gravestones

Carnations were placed at each headstone and a prayer service was held in honor of the deceased Viatorians at this cemetery and those buried elsewhere. Each was remembered through the reading of the names of all of the deceased who lived and served in our province.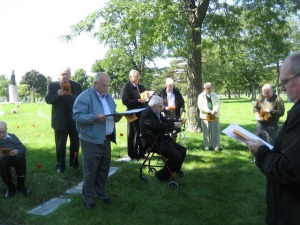 The prayer service for the deceased Viatorians
This was my first visit to Queen of Heaven cemetery and to this celebration. The weather was beautiful and the scene was profoundly sacred and heartwarming. I felt that sense of community, of family. I was so glad to finally be a part of the experience.
Following the cemetery service was a family style luncheon in a restaurant near the cemetery. Stories and memories were shared along with good food. A great way to start the Querbesian year and pay homage to our founder!
Joan