Like many parishes, Maternity BVM Church in Bourbonnais devotes one Mass a month to teens. But unlike many parishes, young people meet as a group beforehand to plan parts of the Mass. They even give their thoughts about the homily.
That was the case over the weekend, when high school students and eighth graders preparing for confirmation sat around a conference table designing the next teen Mass, which takes place Sunday.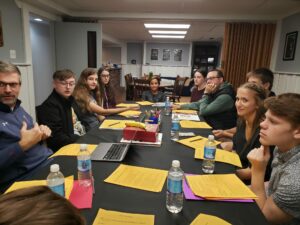 How important is this brainstorming session? Important enough that Br. John Eustice, CSV, as well as Deacon Patrick Skelly attended, as well as Carrie Rink, Youth Minister who led the meeting, and Cheryl King, who helped with music selections. These adults all came away impressed with all that these young people had to offer.
"These young teens are guiding the parish community through their attention to planning this liturgy," Br. Eustice said.
During the meeting, they took time praying with the scripture through the spiritual practice called Lectio Divina, or divine reading. As a result, they selected music, crafted prayers of the faithful and offered suggestions to Deacon Skelly for the homily.
Br. Eustice has sat in on these planning sessions before, but this one occurred while he is a seminarian student himself, learning about liturgy planning and homiletics, at Catholic Theological Union. These young people are inspiring him, he said, with how they are living out their faith.
"Many people say the youth are the future of the church," Br. Eustice said. "I think a better way to say it is that they are the church, now.
"Look at these young people who are leading the local church in Bourbonnais," he added. "Let's not wait for the youth to grow up, because they have gifts our church urgently needs now."