In writing for Voices for Creative Nonviolence, founder Kathy Kelly cites grim statistics of how the war in Yemen has affected its people, most alarmingly its children.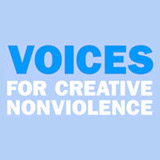 "An entire generation of Yemeni children has suffered the traumas of war, many of them orphaned, maimed, malnourished, or displaced," Kelly writes. "The United Nations reports a death toll of 100,000 people in that nation's ongoing war, with an additional 131,000 people dying from hunger, disease, and a lack of medical care. A report from Save the Children, issued in November 2018, estimated at least 85,000 children had died from extreme hunger since the war began in 2015.
"Since then, 3.65 million people have been internally displaced and the worst cholera outbreak ever recorded has infected 2.26 million and cost nearly 4,000 lives. Attacks on hospitals and clinics have led to the closure of more than half of Yemen's prewar facilities.
"Yemen remains the world's worst humanitarian disaster," the United Nations Office for the Coordination of Humanitarian Affairs wrote on April 23. "Nearly 80 percent of the population requires some form of humanitarian assistance and protection. Ten million people are a step away from famine, and seven million people are malnourished."
Ultimately, she says, the policies of the United States are deeply implicated in Yemen's suffering, through the sale of billions of dollars in munitions to Saudi Arabia and other countries that have intervened in the civil war.
Read Kelly's entire article, here.