At first glance, a cattle farmer and longtime parishioner at St. George Parish in Bourbonnais and a
sophomore at Saint Viator High School in Arlington Heights, would have little in common.
But a closer look reveals a link: They both participated this month in "Wreaths Across America," aimed at remembering fallen veterans over the holidays. The campaign started more than 20 years ago to honor veterans at Arlington National Cemetery and now has spread to 1,400 cemeteries.
Ashleigh Jarvis-Flinn set out to honor more graves at Dayton National Cemetery, home to nearly 47,000 fallen veterans, including her grandfather, Air Force Major Roger "Bud" Flanik, a fighter pilot in Viet Nam. She undertook her mission as part of her Girl Scout Gold award.
She began by designing a web site that educates visitors about Wreaths for America — as well as her grandfather's heroism — and promoted the national initiative on various social media platforms. On Saturday, she was able to make sure 60 more graves were covered with a wreath, and she is determined to do more next year.
At about the same time, Bob Kohl and his wife, Donna, were approached about being part of the honor fleet of volunteer drivers carrying "truckloads of respect," or the fresh balsam wreaths to one of the participating veterans' cemeteries.
The Kohls, who are fourth generation farmers in Kankakee County and a former "Farm Family of the Year" named by the Kankakee Daily Journal, assisted with nearly one dozen other farmers to help with their load of 25,000 wreaths. Their destination: Abraham Lincoln National Cemetery in Elwood, IL, home to 50,000 fallen veterans.
"Bob and Donna are involved in nearly every aspect of our parish life," says Fr. Dan Belanger, CSV, pastor. "I'm not surprised that they were involved in remembering veterans."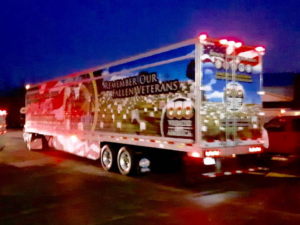 He adds, that living within close proximity of the Veterans' Home in Manteno, IL, area residents are aware of veterans' needs and they look for way to recognize their service. Viatorians have ministered to veterans there since it opened in 1986, and currently, Fr. Belanger says Mass there every week.