Viatorian Associate Rafael Cob served recently as something of a foreman on a construction site, as local residents in the village of San Pedro, located in the Corozal District of Northern Belize, worked together to build a pavilion for community use.
They poured the concrete foundation before constructing its back wall and columns, along with a large stage and metal roof. They still need to plaster the walls around the stage, and add tiles and lights, but they are nearing its completion.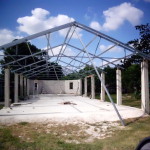 A grant from the Viatorian community helped provide the funds for the start-up costs, and women in the village are cooking tamales to help fundraise for the rest of the $2,000 needed to complete the project.
Rafi serves as outreach coordinator for St. Francis Xavier Parish, located in Corozal Town. He works in conjunction with its pastor, Fr. Moses Mesh, CSV, and Br. John Eustice, CSV, as well as other Viatorian associates and pre-associates to meet the needs of people in the surrounding 23 villages.
As it is, he says, there are no other pavilions like this one throughout the parish communities, and consequently he sees it filling many needs, including social events such as dances and music concerts, as well as meetings and presentations.
"Faith is growing in our community," Rafi says, "and excitement is high."