Books withdrawn from one of the largest library circulations in the state, the Arlington Heights Memorial Library, have found their way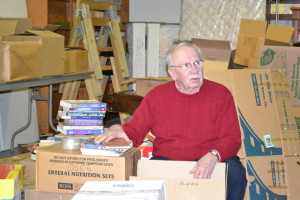 into the hands of young readers in the Third World country of Belize, thanks to the work of one Viatorian brother.
It took Br. Don Houde, CSV, nearly two months and 50 boxes to organize the donation of academic and recreational books. Holed up in a lower level storage room in the Viatorian Province Center, he grouped the books by grade level and content area, before packaging them up for shipment.
He worked with Atanacci Gongora, a native of Belize now living north of Chicago in Waukegan, who trucked all the materials to Belize.
The shipment of books made its way to the seacoast town of Corozal Town in Belize, and St. Francis Xavier Parish, where for the last 14 years Viatorians have ministered to parishioners in 23 surrounding villages and elementary schools.
They also work at Chunox St. Viator, whose mission is to educate students from the neighboring rural communities. The latest donation of books furthers the Viatorian commitment to the children of Belize to make literacy and education a priority.