For only the second time in their history, Viatorians have elected a provincial for a third successive term. In an election supervised by Fr. Alain Ambeault, CSV, superior general of the community, Fr. Thomas von Behren, CSV, was overwhelmingly elected to another four-year term.
"I am honored," he told his confreres. "It is with great humility that I accept your election and your support for a third term as your provincial."
In leading the province, Fr. von Behren will be assisted by Fr. Lawrence Lentz, CSV, as assistant provincial, and council members Fr. Robert M. Egan, CSV, Fr.Daniel Hall, CSV, and Br. Rob Robertson, CSV.
"I believe we are poised to bring renewed energy and enthusiasm to our ministry of leadership and service," Fr. von Behren said in a letter to the wider community."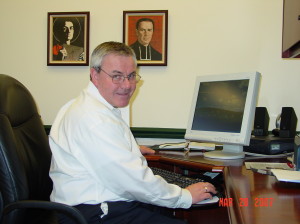 Fr. von Behren remains the community's 16th provincial, after first being elected in 2005. Only Fr. Kenneth Morris, CSV, who  was elected to three successive terms as provincial, and the community's first provincial, Fr. Cyrille Fournier, served longer. In the years when provincials were appointed, Fr. Fournier served 22 years, leading the growing community from 1882-1900 and again from 1904-1908.
In accepting the role, Fr. von Behren remains pastoral leader of the Viatorian community's 175 associates, brothers and priests, serving in this country and in foundations in Belize and Colombia.
"I believe we have a wonderful future together," Fr. von Behren told his confreres, "and that we have the resources and the personnel to continue to make a difference in our world and in our church.
"We simply need to be bold," he added, "and say 'yes,' walking into a future of great promise."
Prior to serving as provincial, Fr. von Behren served as president of Bishop Gorman High School in Las Vegas and Saint Viator High School, with his early years spent in pastoral work in Springfield and Bourbonnais, Illinois. He entered the Viatorian community in 1978 and was ordained a priest in 1983.