It has been nine years since a diocesan trial took place in the city of Lyons, France, where Fr. Louis Querbes had died in 1859. It closed its session on May 25, 2007.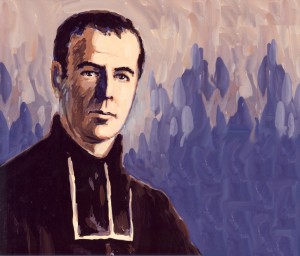 The result? The beatification process of Fr. Louis Querbes officially began.
That same day, documentation was boxed up to be taken to the Congregation for the Causes of Saints in Rome, in order to advance the process to the next step in the quest toward sainthood, to be named venerable.
Earlier this year, Fr. Alain Ambeault, CSV, provincial superior, informed the Viatorian Community of some good news. The position papers documenting Fr. Querbes' life and ministry, would be moved up and reviewed by the Special Congress of Theological Consultants in November, 2017 — in advance of the 225th anniversary of the birth of Fr. Querbes, to be celebrated in 2018.
On the day Fr. Querbes was named a Servant of God, Fr. Mark Francis, CSV, then superior general, celebrated a Mass in the church Fr. Querbes had built in Vourles, France.
"I am convinced Fr. Querbes is speaking to us today," Fr. Francis said. "He is telling us to be confident in the future; that our faith in Christ can help us to overcome any obstacle. God is with us!"