Br. Rob Robertson, CSV, and Br. John Eustice, CSV, joined the Viatorian Community more than 15 years
apart, but this much they know: It took someone else to invite them to consider a calling to religious life.
"The reason I'm a Viatorian is because a friend of mine, who knew the Viatorians, and who knew me well saw an obvious connection," Br. John says. "Thank God she said something. I know she helped me discover the greatest joy in my life."
In the case of Br. Rob, it was the late Fr. Robert Erickson, CSV, then principal of Griffin High School in Springfield, who saw something in his young teacher, in his first year of teaching.
"I wasn't even Catholic," Br. Rob says now.
Last week, both Viatorian brothers served as guest speakers at Bishop Gorman High School in Las Vegas, in a class entitled "Christian Vocations." Students had been learning about the four vocations the Catholic Church recognizes as life styles where each person's call to holiness is lived: married life, single life, ordained life and religious (consecrated) life.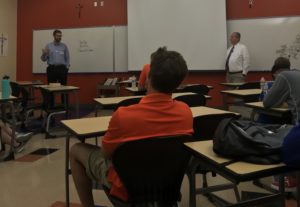 "God has an invitation for every single person," Br. John told the students. "It's up to the individual to seek out, listen and understand that invitation. Often times it is through other people that we hear that call."
Students asked about some of the challenges and blessings that come with this vocational life style.
"Poverty, chastity and obedience aren't necessarily a set of rules to follow," Br. John said, "but rather a path of a life of freedom that affords those who profess these vow to more freely respond to God's invitation."
In closing, the Viatorian brothers asked the students to be upstanders.
"Speak up," they said. "Encourage your peers who you think would be good religious sisters, brothers or priests to consider it. Sometimes, that's all it takes, for someone else to suggest it."