Excitement is running high at the start of the second year of Bishop McNamara Catholic School as one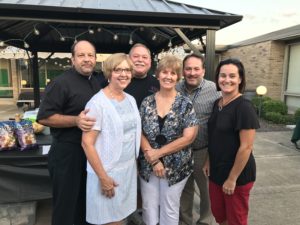 Preschool – 12th grade system.  Bishop McNamara is now the Catholic school in the Kankakee county area and educates a total of 900 students at three sites in Bourbonnais, Bradley, and Kankakee.
With the start of the second year, it drew even more Viatorian support.
Fr. Dan Belanger, CSV, was named Catholic Ministry Coordinator of the system and one of the first things he did was to draw more Viatorian associates, parents and alumni of Bishop McNamara High School to become involved.
They met Aug. 10 in the newly refurbished courtyard of the high school for dinner and discussion. Viatorian Associates Curt and Kathleen Saindon — both local educators — guided their discussion, which wove in the Biblical story of the women at the well with Jesus.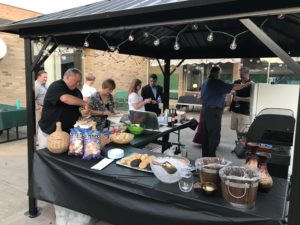 "The story tells us of how when we listen to each other we can then go out and spread the word — and invite more people to join," Fr. Dan said.
The group included Associates Ken and Michelle Barrie, who lead the youth ministry program at St. Patrick's Church in Kankakee, as well as Pre-Associates Julie Lampley and Paula Wasser, both Bishop McNamara alumni. Standing in the courtyard brought back a lot of memories, for both, who never dreamt they would be back, especially as part of the Viatorian legacy.
"Parents just want time to meet and talk again, especially with all the changes," Fr. Dan says. "The group is focused on people who want to do things for Catholic education. These are active, positive people — who want to get to work.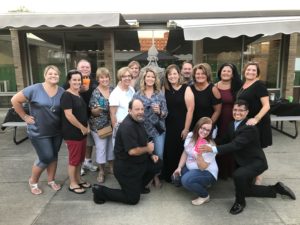 Fr. Dan serves as pastor of St. George Church in Bourbonnais and St. Mary's Church in  Beaverville, as well as chaplain of Bishop McNamara High School.