Viatorians left rural St. Anne Church in 2019, when Fr. James Fanale, CSV, retired, but they continue to remain involved with the parish's biggest event of the year: the St. Anne Novena.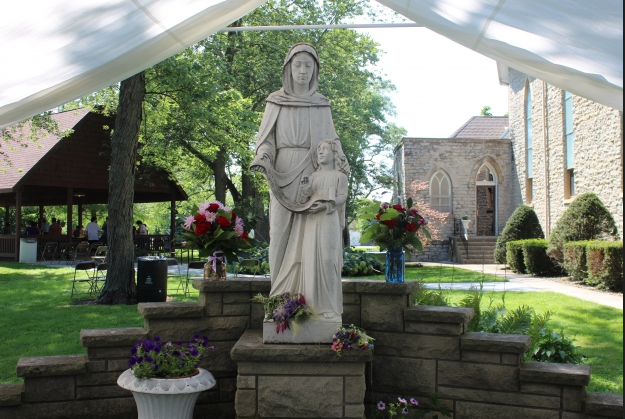 This year's nine-day devotion — that culminated on July 26, her feast day  — was the 142nd year that the parish held the novena and Viatorians have been involved for nearly 100 of those years.
Nearly 500 people attended the devotion over the course of the nine days, with the most coming on the feast day for one of its three Masses.  Viatorians helped in celebrating those liturgies, including Fr. John Peeters, Pastor of St. Patrick Church, and Fr. Moses Mesh, Associate Pastor of Maternity BVM Parish.
Traditionally, after the anointing Mass, a relic of St. Anne — preserved in a monstrance — is carried in a procession through the neighboring streets of the village. This year, Fr. Moses Mesh carried the relic in the procession.
It was a labor of love. St. Anne Church is located in tiny St. Anne, IL and is site of the nation's original shrine. Viatorians began ministering there in 1920 and as a result, they have faithfully continued the tradition started by its French Canadian founders.
Over the years, the feast day has become a festival of sorts, with a whole day full of activities, including children's activities, food and a marketplace offering everything from the abundant gladiolas to images and keepsakes of St. Anne.
Fr. Fanale, the parish's last Viatorian pastor, referred to the novena lovingly: "This is a place of grace, where many have found peace and healing. What a wonderful intercession she is for all us who have come to St. Anne, with the sense that she knows just where we are in our lives. With the tender brush of her hand, we are her much loved children."