After years of fundraising, a new Syro-Malabar Rite Catholic Church — Blessed Mother Theresa Syro-Malabar Catholic Mission — is being built in Las Vegas, making it the only one in Nevada and only the 18th parish in the United States for this Syrian Catholic church.

Viatorians, who have had a strong presence in Southern Nevada for more than 60
years, were approached to donate some of their liturgical vessels to the new congregation, which is part of the Eastern Catholic Church and has Syrian roots.
Fr. Mick Egan, CSV, pastor of neighboring St. Thomas More Catholic Community in suburban Henderson, agreed and sent the request back to the Province Center in Arlington Heights, and to the community's sacristan: Br. Don Houde, CSV.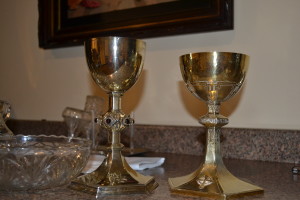 He found a pair of chalices, once owned by Fr. Michael Ranahan, CSV — who was ordained 75 years ago and died 20 years ago this year — and paired them with a set of patens, cruets and other liturgical vessels.
Br. Houde used brass cleaner — and a toothbrush — to polish the two chalices, and he carefully packed all of the vessels up in order to ship them out west.
While Br. Houde is devoted to the Viatorians' mission of 'service to the holy altar,' he sees fulfilling this request as part of a larger worldwide mission : helping Syrian Christians escape persecution from the Islamic State.
"This is one thing we can do," Br. Houde said, "in helping other Christians caught in the Mideast crisis."