According to the International Rescue Committee, there are 82 million men, women and children escaping war, persecution and political turbulence. These refugees and asylum seekers are fleeing their home countries in search of safety and a better life. And Viatorians are doing what they can to support them.
In at least two places — Spain and the United States — Viatorians are welcoming refugees and asylum seekers, and offering them shelter while they pursue their cases.
In Valladolid, Spain, Viatorians converted two wings of a former seminary, the San Viator Center, into a welcoming center. For the last five years, they have worked with the environmental consulting firm, GEOCyL as well as the Spanish Catholic Migration Commission Association, or CCEM, to open their doors and welcome migrants. Since 2017, they have welcomed more than 1,700 refugees, or around 450 families, waiting for asylum papers in Spain.
At the same time, Viatorians in the Province of Chicago opened Viator House of Hospitality to provide compassionate accompaniment of young men seeking asylum. Since opening in 2017, Viator House has been home to 97 men from 23 nations. They will be welcoming their 98th guest on Saturday, from Colombia.
Of those, 31 have been reunited with family members across the U.S., while 18 of them have graduated from high school and another 11 have taken college courses. So far, 22 have earned greater independence with a driver's license and 21 have moved into a shared apartment since 2020.
Just last year, Viatorians in Valladolid converted another wing of San Viator Center to accommodate children from a Ukrainian orphanage. Serving children with disabilities, the orphanage was bombed and destroyed during the Russian invasion. Beginning in August, Viatorians began welcoming a group of 73 children, most of them with special needs.
Some of the children with severe disabilities were referred to other facilities, however, currently they are serving 54 children between the ages of 10 and 17, though it is expected that 15 of them will soon be referred to other resources.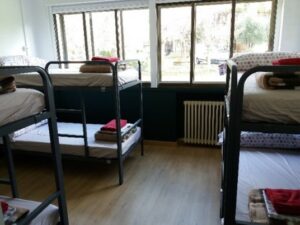 Viatorians and their charism reflect the vision of their founder, the Venerable Fr. Louis Querbes, who founded the Clerics of St. Viator in the 1830s to work with young people in rural France.
More recently, Viatorians are responding to a call from Pope Francis: "Dear men and women religious, empty convents do not serve the Church to transform it into hotels and earn money.  The empty convents are not ours, they are for the flesh of Christ who are the refugees. The Lord calls us to live with more courage and generosity the  welcome in the community, in the houses, in the empty convents… "