For many years, Viatorians have been inspired by the writings of Cardinal John Henry Newman, and now they rejoice that he is a saint.
The former Anglican priest who risked everything to become a Catholic was canonized during an open air Mass Oct. 13 in St. Peter's Square in Rome. The Catholic News Service reported that in his remarks, Pope Francis read from one of Newman's homilies in which he described the holiness of daily life:
"The Christian has a deep, silent,  hidden peace which the world sees not. The Christian is cheerful, easy, kind, gentle, courteous, candid, unassuming, has no pretense. With so little that is unusual or striking in his bearing that he may easily be taken at first sight for an ordinary man."
Pope Francis concluded: "Let us ask to be like that, kindly lights amid the encircling gloom."
At least one Viatorian watched the canonization live: Br. Donald Houde, CSV. Back in August, when the date of the canonization was announced,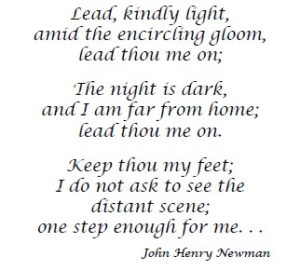 Br. Houde set up a in the display Viatorian Province Center, with an original oil painting of St. John Henry Newman, and the title pages of the two-volume doctoral thesis on Newman, published in 1965 by Fr. John Linnan, CSV.
Br. Houde also created a holy card of the new saint, choosing to share the verse from Newman's poem, "Lead, Kindly Light."