Several Viatorian associates in Bourbonnais took the lead in a project aimed at freshening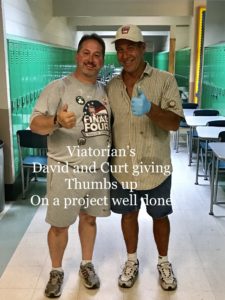 up classrooms at Bishop McNamara High School in Kankakee — and promoting Catholic education in the Bourbonnais and Kankakee region.
Associate David Surprenant asked for volunteers after a Sunday Mass at St. George Parish, which is led by Fr. Dan Belanger, CSV.
"We're a Viatorian parish," Surprenant said, "and the Viatorians are all about educating the young and Catholic education."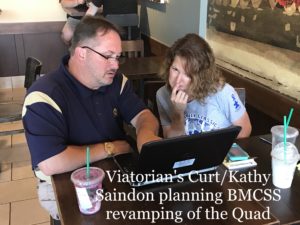 And besides, he added, Bishop McNamara — which Viatorians helped administrate beginning in 1956 — needed their help.
Surprenant's plea yielded more than 25 volunteers, including Associates Susan Surprenant and Curt and Kathy Saindon, and Pre-Associates Julie and Bobby Lampley, and Paula Wasser; all of whom are Bishop McNamara alumni.
"St. George is a place where if you ask, you're gonna receive," Surprenant said. "We have fabulous people here, who are very generous with their time."
Led by Viatorians, volunteers divided into teams and together they painted nine classrooms, including a light gray base and white cinder block on top. Each room took four hours to complete and they finished them all before the floors will be refurbished.
"Our work was definitely needed," Surprenant adds. "The paint colors are simple and clean and they make the classrooms look all freshened up."