The tomatoes are coming, the tomatoes are coming!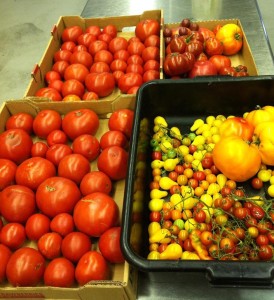 After the wettest spring on record in the Chicago area, and a hot July, the Viatorian Giving Garden is coming into its own, producing hundreds of tomatoes this month, and all for the local food pantry.
The garden, however, has a secret weapon: its flower garden, planted and tended by Associate Joan Sweeney.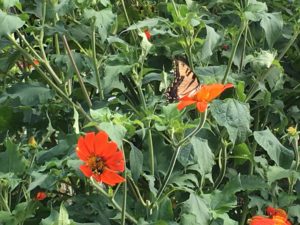 Its beds feature vibrant zinnias, cosmos and Russian sage, as well as giant sunflowers and Mexican sunflowers. Turns out, its flowers attract bees and butterflies, who serve as pollinators for the vegetable plants.
Associate John Dussman coordinates the garden and its many volunteers. Since its inception, the Viatorian Giving Garden has produced more than two tons of fresh vegetables, including radishes, lettuce, beets, peppers, zuchinni, squash and eggplant, as well as corn, sweet potatoes, broccoli, green beans and herbs.
Fr. Dan Hall, CSV, Provincial, conceived the garden in 2012, as an initiative to help provide nutritious vegetables to families in the Northwest suburbs, struggling to put food on the table.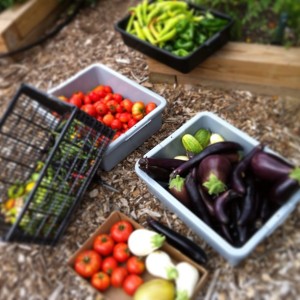 "It's all about feeding the hungry," Fr. Hall said at the outset.
Right from the beginning, he drew support from a wide variety of gardeners, from the Viatorians themselves, to staff members, as well as alumni, students and their families at Saint Viator High School.
The newest group to roll their sleeves up are the men living at Viator House of Hospitality, who wanted to give back to the local community that has welcomed them while they await their asylum cases.
Most of the produce goes to the food pantry at Wheeling Township, which last year fed 5,000 families or more than 10,000 individuals living in Chicago's Northwest suburbs.