Without a typical HR department in place, domestic workers and farmworkers are often expected to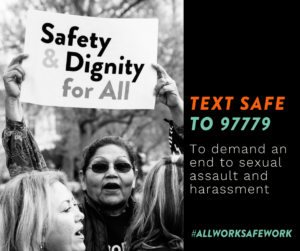 endure abuse at the hands of their employers and clients. While progress has been made in so many industries, these workers have been written out of labor laws, news headlines and Senate hearings.
Right now, anti-sexual harassment laws don't cover most domestic workers and farmworkers, but lobbyists hope to change that.
This week, members of the National Domestic Workers' Alliance will be in Washington to tell Congress that all people should be able to work with dignity. They won't rest until everyone is protected from sexual harassment — no exceptions, no loopholes.
And the Viatorian Community stands with them. They eagerly support the #ALLWORKSAFEWORK movement.
.