After just six years in the NHL — and six years in Las Vegas — the Golden Knights won their first Stanley Cup championship in June, defeating the Florida Panthers 9-3. The celebrations have continued over the past four months, culminating on opening night this week with the presentation of the Stanley Cup one final time — and the raising of the Championship Banner prior to puck drop as they began their quest to defend the title.
Yet, while the Knights made history as the fastest expansion team to win the Stanley Cup, they also are winning over the community.
Even before the Golden Knights had their first game in 2017, Fr. Tom von Behren, CSV, decided that it was important that the Viatorians had season tickets so that he could host friends and potential donors as he moved to Las Vegas to become the founding President of the future Cristo Rey St Viator College Preparatory in North Las Vegas.
With the rich tradition of the Viatorians — who have served in Las Vegas for more than 60 years – Fr. Tom wanted to welcome old and new friends in partnership with the new school. With the commitment to purchase season tickets for the expansion team, even before the club began its inaugural first season in 2017-18, Fr. Tom and Br. Carlos Florez, CSV, and their "season ticket partners" have come to love the team for more than its exciting, fast-paced style of play.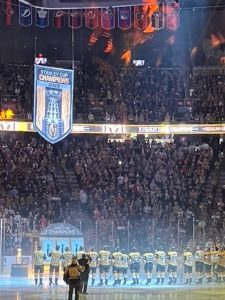 "Right from the start, the team's vision was to become involved in the Las Vegas community," says Associate Dan Schwarz, who formerly worked for the Henderson Chamber of Commerce in suburban Las Vegas and now serves as sales manager at KVVU FOX 5. "They talked to business owners and took players into schools to build their fan base."
On the night of Oct. 1, 2017, when the mass shooting occurred in Las Vegas, the Golden Knights were playing an exhibition game and since that night, Schwarz adds, the community has turned to the Knights in their healing process.
One year later, Kerry Bubolz, President and Chief Operating Officer of the Golden Knights, delivered the keynote address at the Mayor's Breakfast. Among the 400 guests in attendance were students from Bishop Gorman High School, Cristo Rey St. Viator and St. Viator Parish School.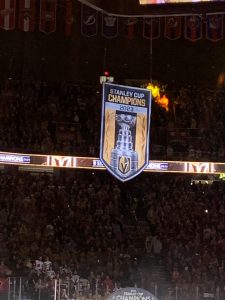 "The guest speaker really touched upon how we all — adults and students — can be proactive in our community," said Zoe D., a student at St. Viator School. "Instead of being an individual, we must work as a team for the greater good and best ultimate outcome."
As the Stanley Cup champions, the benefits of the Golden Knights in Las Vegas continue to rejuvenate the city. Not to mention that the decision to purchase season tickets continues to offer ongoing opportunities for partnerships for the Viatorian Community.
"No one expected them to be as big as they are," Schwarz says, "but it's remarkable how much the community has come together around the team. We're all reaping the benefits."