Viatorians worldwide pause every Sept. 1 to remember their founder, Fr. Louis Querbes, who founded the congregation in 1831, in Vourles, France, where he served as pastor of a small church.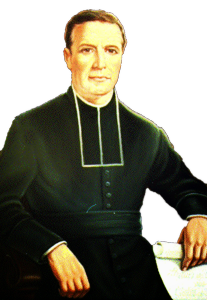 Today we celebrate the 156th anniversary of his death.
Leading up to the anniversary, Viatorians in the Bourbonnais/Kankakee region visited the historic cemetery in Bourbonnais where 62 Viatorians are buried, while at the Province Center, retired priests and brothers remembered at Mass each of the nearly 200 Viatorians who have died.
"Viatorians carry out his vision in many and varied ways, in the teaching of the faith, service to the altar, and caring for the needs of those otherwise considered of 'little importance' by society," says Fr. Jason Nesbit, CSV.
"Let us remember his pastoral zeal, his devotion to the Blessed Virgin and his confidence in the providence of God," Fr. Nesbit adds. "And let us hope and pray that some day Fr. Querbes will be counted among the saints of the church and we may offer our needs for his intercession."