Happy St. Viator Day! Viatorians around the world celebrated the feast day of their 4th Century saint, in a variety of ways.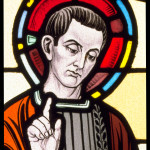 "May all of us follow the example of Saint Viator, and be men and women who are bravely, creatively and constantly faithful," said Fr. Alain Ambeault, CSV, superior general and a native of Canada.
At Saint Viator High School, Viatorians bore out the directive to be "creatively" faithful.
In advance of a Mass dedicated to their patron saint, students took a break from classes and devoted the entire day to a youth conference, designed around enriching their faith and learning more about the Viatorian charism.
Teens could choose three morning sessions to attend — from nearly 20 offered — before attending an afternoon Mass, con-celebrated by three Viatorian priests and with Viatorian associates, brothers and priests in attendance, who renewed their commitments as Viatorians before thestudent body.
"This is an incredibly wonderful day," said Fr. Corey Brost, CSV, president of Saint Viator High School, "when we have a chance to reflect on our values and the Viatorian charism, which encourages us to make a difference in the world. How many other young people get to have a day like this?"
At St. Viator School in Las Vegas, students found their celebration to be a sweet one. Associate Rosy Hartz and Br. Rob Robertson, CSV, who work on staff at the school, organized retreat activities for middle school students that had them reflecting on the Viatoriancharism. Free Krispy Kreme donuts helped sweeten the deal.
Prayerful reflections continued into the night, as each of the regions in the Chicago Province, brought together associates, brothers and priests to gather for a prayer service, that drew on their patron saint as well as the founder of the Viatorians, Fr. Louis Querbes, and his charism that continues to inspire them.