Viatorians priests across the Province of Chicago carried out a tradition that is steeped in tradition, in attending the Chrism Mass.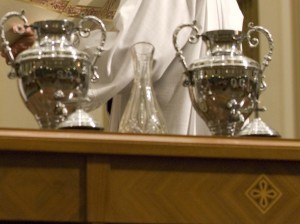 It dates back to the early church, when the bishop blessed holy oils used during the sacraments for the rest of the year. Those include oil for the anointing of the sick, the oil of catechumens — which is for those preparing to be baptized — and the chrism oil, which is consecrated and used for baptism, confirmation and holy orders.
The Mass of the Sacred Chrism always takes place during Holy week, prior to Holy Thursday, and it often is the largest gathering of priests in the diocese.
Viatorian priests attended Chrism Masses at Guardian Angel Cathedral in Las Vegas, as well as Holy Name Cathedral in Chicago and the Cathedral of St. Raymond in Joliet.
That's where Viatorian priests who serve in the Bourbonnais/Kankakee region gathered with Bishop R. Daniel Conlon, who blessed the holy oils. But he also acknowledged the ministry of priests as they renewed their commitment to service — and received prayers and support from those who attended the Mass.