Let God take the wheel!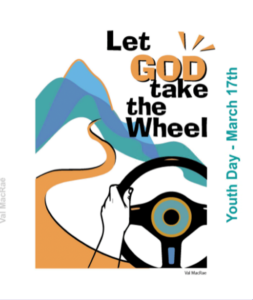 That sporty theme drove last week's LA Youth Day, hosted by the Archdiocese of Los Angeles' Office of Religious Education in Anaheim. After a two-year hiatus, the in-person event returned — with COVID mitigations in place — with all its power to energize teens about their faith.
The crowd was half the normal size, but among the 7,500 were young people from St. Viator Catholic Community and Bishop Gorman High School, both in Las Vegas. Br. John Eustice and Associates Rosy Hartz and Kim Martinez were among the chaperones who accompanied them.
Br. John described the two days as "truly a Viatorian experience" of walking with young people, guided by lay and professed collaborators, and inspired by the Viatorian charism.
"We were able to accompany these young people to a wider Church experience," Br. John said, "that opens them up to other youth from the west coast, who are on fire for faith in action."
The two-day event includes a rally, liturgy and as many as 10 workshops to choose from, all designed just for teens.
One of the favorites for the Viatorian youth came on the first day, when Sr. Josephine Garrett, CSFN led their workshop. She is a licensed clinical mental health counselor, who serves as a school counselor and in private practice in the Diocese of Tyler, TX. She connected with these teens whose lives have been interrupted by COVID and deprived them of so much social interaction.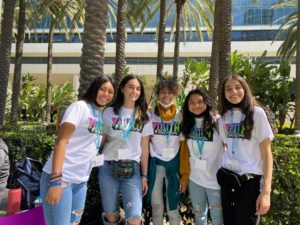 "She showed me that you can persevere through your struggles and grow closer with God," said Isabel. "I'm definitely going to use that next year."
Ansel Augustine delivered the keynote address, which he summed up this way: "Human nature wants us to be in control, but how do we "Let Go and Let God" take control?"
Augustine has worked in youth and young adult ministry for more than 20 years in New Orleans and currently serves as the New Orleans Area Director for Vagabond Missions, which provides Catholic youth ministry to urban and inner-city communities.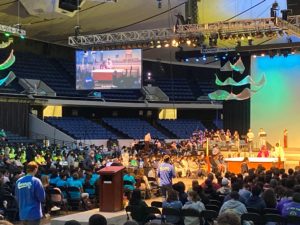 The event also immerses teens with adults who are passionate about young adult ministry.
"Several of the youth had never met a vowed brother, let alone a sister," Br. John added. "Hopefully they are able to consider how God is inviting them to live out their baptismal call  — maybe as an associate, brother, priest or professional minister."
A highlight, as always, was the event's closing Mass, celebrated by the Most Rev. Jose Gomez, Archbishop of Los Angeles and President of the U.S. Catholic Conference of Bishops. Few, if any of the young people had ever experienced a Mass in that large of a setting, surrounded by other teens actively living out their faith.