More than 60 delegates from around the country gathered this week for the fourth annual Viatorian Youth Congress, including high school teens and college-age, young adult leaders.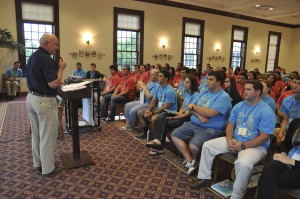 What started in 2010 as a way to bring together teens from different Viatorian sites, has evolved into a four-day workshop offering formation, social justice and leadership training in young people who attend.
"Throughout the Congress, we gather to learn, discuss and deepen our grasp of the Catholic faith," says Bart Hisgen, assistant director of vocations for the Viatorian Community, "and how we can greater serve the Viatorian mission."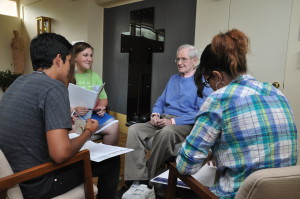 The Rev. Patrick Render, CSV, pastor of St. Thomas More Catholic Community in Henderson, NV, sent six teens to the Congress, while others came from St. Viator Catholic Community , as well as Bishop Gorman High School, both in Las Vegas.
"All of the young people from our group are already involved with the youth programs here at the parish," Fr. Render says, "but they come back with significant new experiences to help them in their leadership roles here at St. Thomas More — and beyond."
Students also came from Saint Viator High School in Arlington Heights, IL, St. Viator Parish in Chicago, Maternity of the Blessed Virgin Mary Church in Bourbonnais, IL, St. Patrick's Church in Kankakee, IL and Cristo Rey St. Martin College Prep in Waukegan, IL.