On the 75th anniversary of D-Day, Fr. Mick Egan, CSV, Superior General, reflected on the sacrifices of the men who stormed the beaches at Normandy, during his homily at daily Mass.
Only later did he realize that one of the Viatorians who had taught him English for three years at Saint Viator High School, was one of the first chaplains to arrive at Normandy, days after the invasion.
Fr. Edward O'Neill, CSV, was serving as assistant pastor at St. Viator Parish in Chicago before he entered the Army as a chaplain, in 1942.
He spent time in England, before landing at Utah Beach in Normandy, just five days after the D-Day invasion. According to a newspaper account at the time — headlined "Chaplain O'Neill Risks Life for Yanks in France" — he went right to a field artillery group on the front lines, to counsel traumatized soldiers.
"Without waiting for definite assignment, he came alone to give spiritual help where it was needed most — up front with the infantry," the story read.
From there, Fr. O'Neill eventually made his way to the captured German prison hospital, where he cheered Allied patients. He ultimately served five months in France, where his service earned him the rank of captain — and the Purple Heart.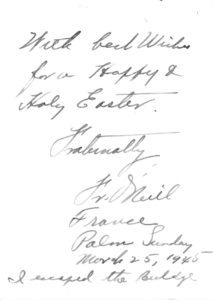 After his return from the war, Fr. O'Neill taught English at Mundelein College and Loyola University, before serving as pastor at St. Patrick Church in Kankakee.
His last assignment started in 1961, when he was tapped to lead the English department at Saint Viator High School, as part of its founding staff. He remained there until 1967 and retired in 1969.
Although Fr. O'Neill never mentioned his military service, let alone his time in Normandy, his classroom still reflected his training.
"He always insisted we stand when he entered," Fr. Egan recalls. "Then he would say, 'Be seated, gentlemen.' I remember him vividly."