Fr. Tom Long, CSV, was one of four volunteers showcased by The Chicago Community Trust, for his longstanding commitment to the Latino Union, and by extension, the immigrants and low-wage workers the Union serves.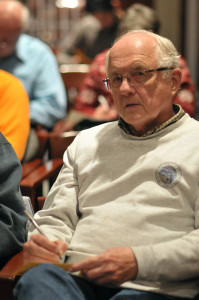 The Latino Union celebrates its 15th anniversary today, and its members remain focused on collaborating with low-income, immigrant workers to develop the tools they need to improve their social and economic conditions.
In support of empowering these workers, the Viatorian Community has awarded the Latino Union one of its social justice grants for the last eight years, amounting to $35,000.
Fr. Long became involved as a teacher of English as a Second Language, but he remains involved on its board, advising members on fundraising and relationship-building.
It was listening to the stories of his students, of their fear of deportation and of their determination to work hard to feed their families, that drew Fr. Long to become more active in the fight for comprehensive immigration reform.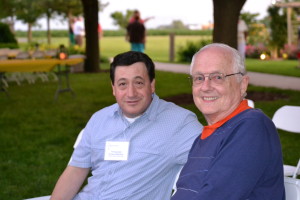 Fr. Long regularly travels to Immigration Detention Centers in suburban Woodstock and Broadview, where he prays with detained immigrants who are waiting to be deported, and joins with other religious in weekly prayer services outside the centers.
"[My activism] all started with my experience teaching English at Latino Union," Fr. Long says. "I got to know immigrants as human beings who are just here to work hard and to feed themselves and their families.
"If you respect people, you can talk about anything, and you can learn," he adds. "I don't know who learned more–my students, or me."