Parishioners at St. Mary's Church in Beaverville, IL, reaffirmed their devotion to their patron saint by launching the Year of Mary: Journey with Mary's 2020 Vision.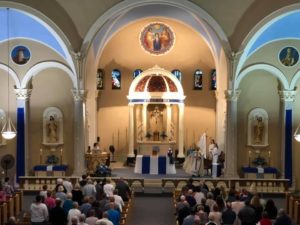 The celebration began with their traditional Founders' Day Mass, celebrated on Sept. 8, which reflects on the parish's 162-year history, including more than 140 years of Viatorians ministering with them.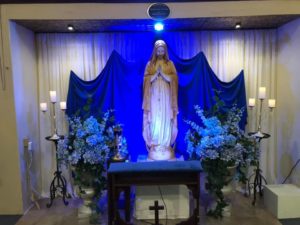 Fr. Dan Belanger, CSV, pastor, celebrated the Mass. The opening procession featured Sr. Linda Hatten, SSCM, carrying in the Marian flag which will fly from Sept. 8, 2019 to Aug 15, 2020.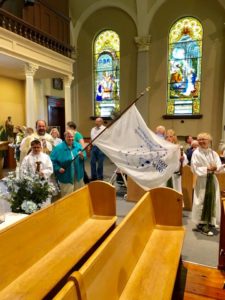 During the ensuing months, parishioners will create programs, presentations and special prayer services all designed to refocus themselves on Mary and the many ways in which she impacts their lives.
Throught their history, Viatorians have held a strong devotion to Mary, starting with their founder, Fr. Louis Querbes.
Back in the 19th century, Fr. Querbes fostered a special devotion to Mary during the month of May, as the newly installed pastor of St. Nizier Church in Lyons, France.
He would assemble his students before the shrine of Our Lady of Grace, located on a side altar in the church, where they would sing songs and recite prayers to the Blessed Mother.
Before long, this "Month of Mary" spread to all of the Catholic churches in France.
Fr. Dan proudly carries on this tradition. The very same weekend, he oversaw a similar year devoted to Mary at St. George Parish in Bourbonnais, IL, where he also serves as pastor. Their year of Mary launched Sept. 7, one day before the new year at St. Mary's in Beaverville.