One year after entering the Viatorian Novitiate, Novice Br. Peter Lamick is ready to profess his first vows.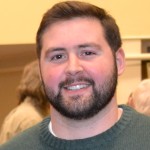 The vow ceremony will take place Jan. 9 in the Province Center chapel, in front of a standing room only crowd of family members, friends and members of the Viatorian Community.
When Br. Peter signed the novitiate contract last year, he agreed to dedicate the next year to immersing himself in community life, by learning about the vows of poverty, chastity and obedience.
"It's a year to deepen yourself spiritually," Fr. Thomas  von Behren told him, "and begin to personally prepare yourself for your new life when you take your first vows."
Br. Peter first met the Viatorians when he attended Saint Viator High School and graduated in 2007, before earning his undergraduate degree in history at Benedictine University in Lisle, IL.
It was during his senior year at Saint Viator, when he faced an assignment in religion class, that Br. Peter points to as a turning point in his call to religious life.
"We had to write a letter to our future self in 10 years," he relates. "I wasn't sure of what to write and just stared at the page for a while. Then I experienced this overwhelming feeling with the thought that I was meant to give my entire life to helping others."
A pre-novitiate year spent visiting Viatorian ministry sites, and a novitiate year immersed in deepening his spiritual life, has helped him discern just what that future self might look like.