What do you get when you assign a physics professor to manage a library collection? A scientist's approach to cataloging its more than 1,600 volumes, that's what.
Fr. John Milton, CSV, helped to establish the physics department at Saint Viator High School and went on to spend more than 20 years teaching physics at DePaul University. But he approached his new task of managing the Viatorian library collection with the enthusiasm of a problem solver.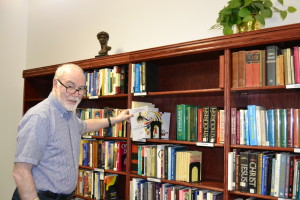 "By the time I took it over, the number of volumes had increased," Fr. Milton said, "to a point where there was insufficient shelf space."
Working with Viatorian Archivist Joan Sweeney, they first set out to identify the nearly 1,800 volumes in the collection. They found the perfect software to help them:  "Church Library Organizer Pro."
By entering each book's Library of Congress International Standard Book Number (ISBN), the computer displayed its title, edition, binding and publisher, and ultimately helped them to categorize and digitalize the collection.
Most recently, Fr. Milton oversaw the construction of three new bookshelves added to accommodate the expansive collection, now rearranged into these categories: Bible, biographies, Vatican II, and Spiritual reading.
Fr. Milton also has produced a spreadsheet of the catalog to share with members of a new library committee, who are charged with looking over the holdings and making suggestions about their disposition.
Ultimately, Fr. Milton hopes to install a final piece of software which will make the catalog accessible to all users of the Viatorian database.