Nearly 500 guests filled the ballroom last weekend at the South Point Hotel in Las Vegas for the 32nd annual St. Viator School
Foundation gala, but this year there was a distinct Viatorian influence, that was, well, tangible.
For starters, guests found a holy card at each of their place settings dedicated to the Venerable Fr. Louis Querbes, founder of the Clerics of St. Viator, with a prayer for his beatification.
The card was the idea of Associate Mary Miller, who with her late husband, Associate Dan Miller, and their son and daughter-in-law, John and Jacki Miller, were the latest to be inducted into the Foundation Hall of Fame.
"I figured I had a captive audience," said Mary Miller, whose seven children all attended St. Viator School and Bishop Gorman High School. By her estimation, she and her husband worked alongside of 20 Viatorians during their more than 60 years in Las Vegas.
"All of these people knew about the Viatorians, but not necessarily about their founder," she added. "I figured if each of them knew a little about him and prayed for his beatification, maybe a miracle will come through."
In accepting her award, Mary Miller recalled the lasting impact the Viatorians made on her family and southern Nevada.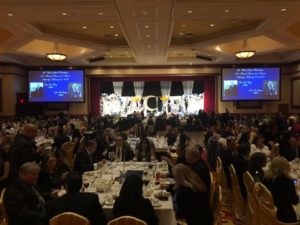 "We're thankful for so many things," she said. "The Viatorians have been great, as teachers, missionaries on the Strip and builders of schools here in the Valley."
Her son, John Miller, agreed: "We have seen the impact the Foundation has made on the lives of all St. Viator students. It is an honor for us to give back to the community that has blessed our family in so many ways."