That's a wrap. The 14 raised beds that comprise the Viatorian Giving Garden combined to produce more than 800 pounds of fresh vegetables for area food pantries this summer.
"That's 50 pounds more than last year," says Associate John Dussman, who coordinates the ministry. "It was wonderful effort by all the gardeners who worked so hard this year."
Gardeners donated fresh herbs, vegetables and hand-tied bouquets of flowers to help feed and uplift families struggling to make ends meet. Their crops ranged from basil, chives, cilantro and oregano, to beets, carrots, cucumbers, eggplant, onions, peppers, radishes, tomatoes and zucchini.
Associate Joan Sweeney tends a flower bed, which featured vibrant zinnias, cosmos and Russian sage, as well as giant sunflowers and Mexican sunflowers. The garden produced so many flowers, she was able to arrange 165 bouquets to contribute.
"I think of it as food for the soul," Sweeney says.
Their donations went to food pantries at Catholic Charities in Des Plaines and the Wheeling Township food pantry in Arlington Heights.
"The fresh vegetables offered a nutritious choice for our food pantry clients," said Wheeling Township Supervisor Kathleen Penner, "and the beautiful flowers helped lift the spirits of all that received them."
Fr. Dan Hall, CSV, Provincial, conceived the garden in 2012, as an initiative to help provide nutritious vegetables to families in the Northwest suburbs, trying to put food on the table.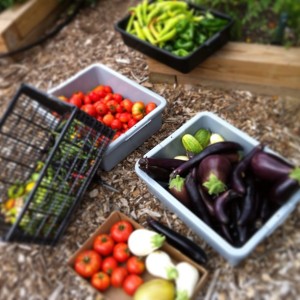 "It's all about feeding the hungry," Fr. Hall said at the outset.
Gardeners included some of the Viatorians themselves and staff members, as well as alumni, students and their families at Saint Viator High School.