And that's a wrap! A commitment by the Viatorian Community to feed the hungry, paid big dividends this year. For the second straight year, its gardeners combined to raise more than 2,000 pounds of vegetables in an effort to help feed hungry families.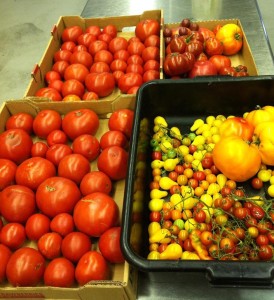 "It was a very successful giving season this year," said Associate John Dussman who coordinates the garden ministry with his brother-in-law Ed Flynn.
It was Fr. Daniel Hall, CSV, who planted the seed for the garden, back in 2013. Right from the outset, he described it as a ministry, with its mission to feed the hungry by raising fresh produce for local food pantries.
"We, as a community, have been very blessed," Fr. Hall said. "This is something we can do to help those around us. We see it as our responsibility and our mission."
Volunteers pitched right in and each year their harvest has grown. Two years ago, in 2021, Viatorians doubled the size of the garden, increasing it to 25 raised beds and once again they drew eager gardeners. So many that they continue to have a waiting list of those who want to participate.
This year's gardeners included multiple families, organizations, teams and other faith communities participating, as well as current Saint Viator High School students and alumni.
One of those to join the ministry has been Dwayne Anderson, from nearby First Presbyterian Church of Arlington Heights. As a master gardener, he has encouraged gardeners to enrich their gardens with organic material through composting. Most recently, he advised gardeners on how to winterize their plots by adding shredded leaves and more composting for a nutrient-rich soil next year.
All of the vegetables are raised for families in need, especially those served by Catholic Charities and the Wheeling Township Food Pantry, which serves households from throughout Chicago's Northwest suburbs.
Kathy Penner, Wheeling Township Supervisor, thanks the Viatorian gardeners every year, for their abundant donations to their food pantry clients.
"The fresh vegetables were a healthy addition to the pantry," she wrote. "Every donation makes a difference in someone's life and brings relief during a time of need."