Parishioners at San Viator Parish in Bogotá just completed another new building on their church grounds: Our Lady of Grace Hall. It has a capacity for 300 people and can be used for conferences or presentations. The new hall was built on the spot where parishioners used to gather under a tent, during the eight years before their new parish church was completed in 2021.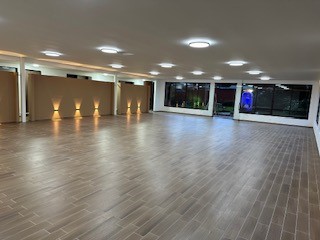 "In the new hall we can have meetings for the different ministries of the parish," says Fr. Edgar Suarez, CSV, Pastor. "In addition, it can be rented for different events for families, schools or companies, thus being a source of income for the parish."
The name of the hall reflects a special meaning for all Viatorians, that dates back to the community's founder, the Venerable Fr. Louis Querbes.
Back in the 19th century, Fr. Querbes fostered a special devotion to Mary during the month of May, as the Assistant Pastor of St. Nizier Church in Lyons, France. He would assemble his students before the shrine of Our Lady of Grace, located on a side altar, where they would sing songs and recite prayers to the Blessed Mother.
Images of Our Lady of Grace can be found at many Viatorian parishes and schools, with the latest one at San Viator Parish in Bogotá, where her image and name will be featured at the front of the hall.
"The Hall has the name of Our Lady of Grace in honor of the Viatorian devotion to Mary," Fr. Suarez adds, "consecrating our work and ministries to the intercession of our Heavenly Mother."