A new club is taking root at Saint Viator High School: the Veggie Lions.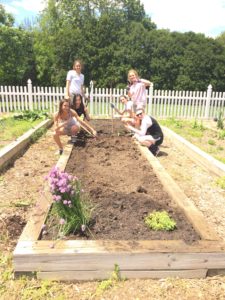 They take their name from their gardening mission and they are the latest gardeners to take over a plot at the Viatorian Community Garden.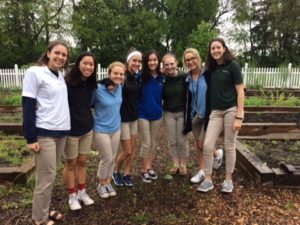 Fr. Dan Hall, CSV, started the garden in 2012, with a goal of providing nutritious vegetables to families in the Northwest suburbs, struggling to put food on the table, but a tradition of gardening on the property goes back to its roots as a 19th Century farm and nursery.
The Viatorian Community purchased the former Draper farm in 1951 with the idea of converting its buildings and land into a novitiate. Some 10 years later, the northern half of the property would be developed into Saint Viator High School, but the Province Center grounds retained their rural character, with a large vegetable garden, fruit trees and even chickens.
Fr. John Toolan, CSV, arrived at the Province Center in 1969 and he would spend the next 30 years tending a sustainable vegetable garden — which helped feed the novices — and growing roses on the property.
That same mission now is carried on by nearly two dozen gardeners, which include the members of the Veggie Lions. They are part of a growing ministry that helps animate one of the core objectives of the Viatorian Community, to fight hunger.