Fellowship, spiritual renewal and strengthening the bonds as a Viatorian Community.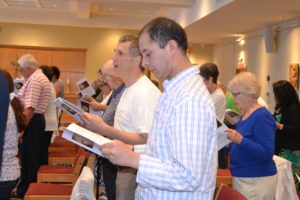 Those are some of the goals of the annual Provincial Assembly, which this year drew more than 80 Viatorian associates, brothers and priests to gather at Saint Viator High School for the three-day conference.
"Over the course of these three days, we will celebrate our jubilarians and associates," said Fr. Thomas von Behren, CSV, provincial "and strengthen our community."
The timing of the assembly is key. This year's gathering occurs less than six months before the Extraordinary General Assembly, to be held in Madrid, when delegates from around the world will gather to discuss issues facing the international Viatorian Community.
Part of the agenda is to designate delegates for the General Assembly, as well as to craft a response to the international community's major priorities — vocation ministry and social justice.
"We are better because of the Viatorian Community," Fr. von Behren said. "These meetings matter."