The Viatorian Community Garden is enjoying a bumper crop this summer.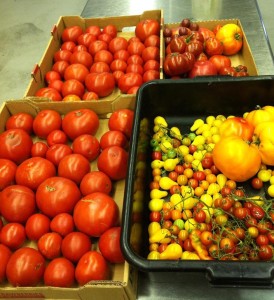 With at least two more months of harvesting to go, its gardeners already have grown — and donated — nearly as many vegetables as all of last summer, or around 800 pounds. Mostly, they have included corn, cucumbers, peppers, yellow squash, zucchini — and loads of tomatoes.
All of the vegetables are raised for families in need, especially those served by Catholic Charities and the Wheeling Township Food Pantry, which serves households from throughout Chicago's Northwest suburbs.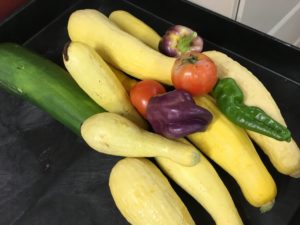 Wheeling Township Supervisor Kathy Penner says the vegetables brought in by the Viatorian gardeners are more than a donation.
"They represent a dedication to nurturing good health, positive outcomes, and the hope for a better future," Penner says. "We are incredibly grateful for the Viatorians' dedication to making people's lives better, especially during these challenging times."
Improving people's lives was the driving force behind creating the garden. Fr. Daniel Hall, CSV, Provincial, conceived the garden in 2012, as an initiative to help provide nutritious vegetables to families in the Northwest suburbs, struggling to put food on the table.
"It's all about feeding the hungry," Fr. Hall said at the outset.
Right from the start, he drew support from a wide variety of gardeners, from the Viatorians themselves, to staff members, as well as alumni, students and their families at Saint Viator High School. For the last two years, young men living at Viator House of Hospitality, have tended their own plot. They view working in the garden as one way they can give back to the local community that has welcomed them while they await their asylum cases.
One of the original gardeners remains committed as ever. Associate Joan Sweeney began growing flowers as a way to beautify the garden — and pollinate the vegetable plants. They grew so well that she started cutting the abundant zinnias, cosmos and Russian sage and arranging them into small bouquets for food pantry clients. Already this summer, she has cut and arranged more than 100 bouquets of fresh flowers for food pantry clients, and she's not done yet.
"I think of it as food for the soul," Sweeney says.
In all, the garden  consists of 14 raised beds, surrounded by a white picket fence and located on the grounds of the Viatorian Province Center. Its plants bring the Viatorian Community back full circle. They purchased the land from an Arlington Heights farmer, some 70 years ago, in 1950.