You can go home again. That appears to be the case with Br. Rob Robertson, CSV, who is returning to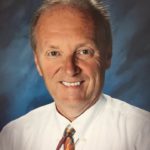 Bishop Gorman High School in Las Vegas exactly 30 years after he first arrived there as a new Viatorian brother, to teach business and religion.
His first assignment would last only one year, but he would return to Bishop Gorman from 1994-99 to reach religion and work in Campus Ministry, before spending a total of 20 years at Saint Viator High School in Arlington Heights.
"I really missed the high school setting and decided to make the move," Br. Rob says. "It all happened very quickly, but I am excited about heading back over to Bishop Gorman."
For the last two years at St. Viator Catholic School, Br. Rob has served as a junior high counselor. He now will assist with coordinating service requirements of students at Bishop Gorman, where service is valued and celebrated. Each student is required to fulfill a minimum of 25 hours of Christian service each year, preferably in the area of the corporal and spiritual works of mercy, or advancing social justice.
In rejoining the Bishop Gorman faculty, he will join Br. Dan Tripamer, CSV (math teacher) and Associates Kim Martinez (Campus Ministry) and Bridget Michlik (development).
Br. Rob has devoted most of his ministry to working with high school students. In fact, it was while working at his first job, as a teacher at Griffin High School in Springfield where he discerned a calling to religious life.