Next year, Associate Rosy Hartz will celebrate 20 years working in youth ministry at St. Viator Catholic Community in Las Vegas. Consequently, she is passionate about accompanying young people in their faith formation.
Which is why Rosy and her innovative ways of carrying out youth ministry during the pandemic will be featured in the next Viatorian newsletter, but a national publication beat us to the punch.
Rosy was one of eight youth ministers from across the country showcased in this month's annual report for the Washington-based National Federation for Catholic Youth Ministry.
Specifically, she was highlighted as an active member serving the young church, in a section called, "Accompaniment: Journeying Together."
"The excitement in my heart is overwhelming," Rosy said in a Facebook post.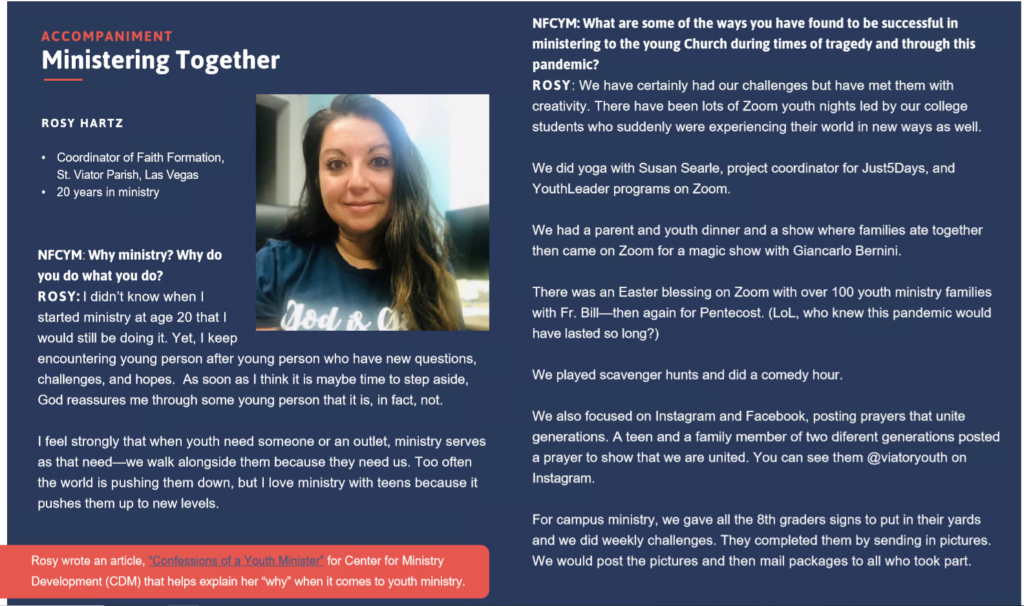 Rosy and her husband, Associate Paul Hartz, have been Viatorian associates for 11 years. Both remain steadfast in their Viatorian commitment to young people and their faith development. But that's not all. Just last month, Rosy was elected to the executive committee of the Viatorian Youth Council, which is the primary leadership council for the Viatorian Community.