More than two years after it opened, Viator House of Hospitality continues to serve as an alternative to detention for young immigrant men awaiting asylum hearings — and as a model for other communities.
Fr. Corey Brost, CSV, and Br. Michael Gosch, CSV, started the ministry in 2017 and it continues to draw interest, from volunteers and news outlets.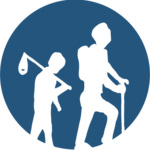 Its latest visibility appears in the latest edition of Health Progress, the journal of the Catholic Health Association of the United States.
Called "Asylum Seekers Find Safe Haven," it was written by John Morrissey, a freelance writer who also volunteers at Viator House of Hospitality.
The five-page story gives an in-depth look at the contrast between what these young men would face in adult detention, versus the quality of life they enjoy as well as supportive services at Viator House.
Accompanying the article is a podcast, including an interview with Fr. Brost, which comes on at the 10-minute mark.
"My religious order, the Clerics of St. Viator, was founded in the 1830s to work with young people on the margins," Fr. Brost says during the interview.
"One of our goals at Viator House," he adds, "is to provide an environment of hope, healing and opportunity."