Support is growing! Two years after a pair of Viatorians opened the Viator House of Hospitality, the mission to welcome young, immigrant men seeking asylum in this country continues to build momentum — and excitement.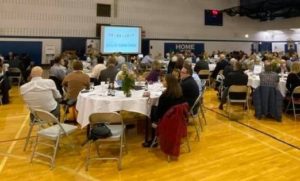 Its most recent fundraiser, the second annual Taste of Viator House, once again sold out and raised the visibility of its mission as much as it raised needed funds. The benefit  took place at Saint Viator High School and drew nearly 300 people. The paddle raise alone — which raised money specifically for residents' needs — drew more than $80,000 in donations or 20% more than  last year.
The house has welcomed 57 men from 17 countries since opening, and currently serves 25 young men from 11 countries.
Fr. Corey Brost, CSV, directs the house with Br. Michael Gosch, CSV. Both were on hand for the fundraiser and were thrilled with the outpouring of response for their mission.
"I am so humbled to see so many people come to the event to support the young men of Viator House of Hospitality," Br. Gosch said. "Their concern and care for our participants gives me hope."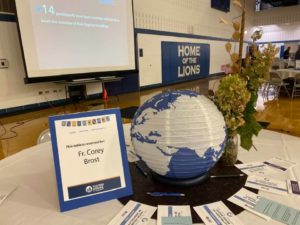 Highlights of the evening included hearing from the residents themselves. One of the first residents to live at the house, who now is enrolled in college, gave the opening prayer. Another resident gave a powerful testimony in describing his journey of fleeing from violence in his native country of Somalia.
Many of the guests who attended the fundraiser help out as volunteers, getting participants to school, jobs and other activities. They back up staff members, who support participants with case management and access to medical care, as well as language skills and education, and meeting their spiritual and emotional needs.
"The need is urgent," Fr. Brost says. "According to the border patrol, 90,000 unaccompanied minors crossed the border in recent years. They have come from all over the world, and they have fled for their lives from violence in their homelands."
He adds that welcoming these young men is rooted in the Viatorian mission of accompanying young people — as well as those "accounted of little importance."