Two years after a pair of Viatorians opened the Viator House of Hospitality, the mission to welcome young, immigrant men seeking asylum in this country continues to build momentum — and support.
Its most recent fundraiser, held at Maggiano's Little Italy in suburban Chicago, drew a sold out crowd, or more than twice as many people — and donations — as organizers had hoped for.
"Thank you to the 230 folks who joined us tonight for our first Pasta Night," said Fr. Corey Brost, CSV, co-director of Viator House of Hospitality. "They helped us raise nearly $20,000, including donations of $25 from two VHH participants! Our goal was 100 guests and $10,000. God is good!"
The unique ministry also continues to draw more interest in news outlets, most recently in a series of stories by columnist Burt Constable in the Daily Herald, which runs throughout the Chicagoland area.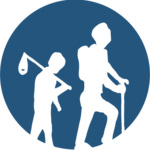 The house currently serves as home to 25 young men from 10 countries, and there is a waiting list. Br. Michael Gosch, CSV, who directs the house with Fr. Corey, says they hope to accept additional men in the coming weeks who are being released from detention.
"They are all doing well," Br. Gosch reports. "We have three who are in college, and several have graduated from high school."
Many of the guests who attended the fundraiser help out as volunteers, getting participants to school, jobs and other activities. They back up staff members, who support participants with case management and access to medical care, as well as language skills and education, and meeting their spiritual and emotional needs.
"The need is urgent," Fr. Brost says. "According to the border patrol, 90,000 unaccompanied minors crossed the border in recent years.
"They have come from all over the world," he adds, "and they have fled for their lives from violence in their homelands."
He adds that welcoming these young men is rooted in the Viatorian mission of accompanying young people — as well as those "accounted of little importance."