The spread of intentional disinformation about how child sex trafficking happens in most situations detracts from the very real, very important work of helping families to protect children and working to change the conditions in which trafficking thrives – poverty, abuse, addiction, hopelessness, discrimination, to name but a few. Understanding the realities of child sex trafficking will help you to not only keep your own children safe but to become an effective advocate for the safety of all children and families in your community. For those looking for ways to get involved, learn more about child trafficking and some of the myths associated with it.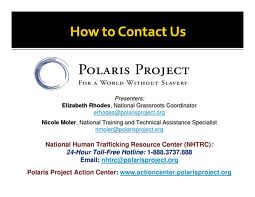 Viatorians support the Polaris Project, which works to end sex and labor trafficking in North America. Its work is driven by data, shaped by the expertise of survivors, and focused on dismantling the underlying systems that make it possible to rob 25 million people around the world of the freedom to choose how they live and work.
For more than a decade, Polaris has operated the U.S. National Human Trafficking Hotline, connecting more than 50,000 victims and survivors to help and support. That experience underlies our deep expertise, and informs research and analysis, advocacy and outreach and innovative pilot projects and partnerships that serve as a laboratory and knowledge-base for the anti-trafficking movement as a whole.
To find out more here about what recovered missing children know about human trafficking, as well as the latest statistics and why an increase in the number of victims and survivors contacting the hotline is meaningful.