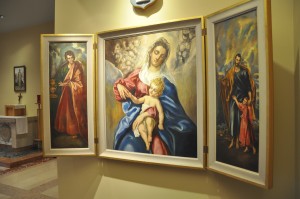 A triptych that features a replica of a 16th century El Greco painting of Mary and the infant Jesus, rivets the attention of worshippers who enter the Alumni Memorial Chapel at Saint Viator High School.
It is one of the focal points of the newly renovated chapel, meant to bring a sense of reverence and spiritual peace to students, faculty and staff who frequent the sacred space for liturgies, prayer services and retreats.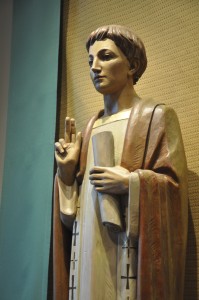 The tri-fold portrait also includes St. John the Evangelist on one side and Joseph with Jesus on the other — also El Greco replicas — which hung in the school's original chapel. It graces one side altar, while St. Viator watches over the other.
The entire chapel underwent a facelift this summer, driven by Fr. Corey Brost, CSV and Br. Rob Robertson, CSV, who not only work in the school and lead prayer services and Mass there, but live one floor above it.
"We wanted to return it to more of its original look," Br. Rob said.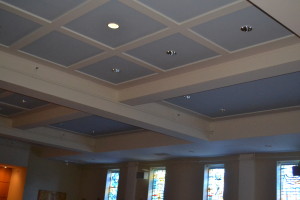 They worked with officials from the Daprato Rigali Studios in Chicago, who specialize in church renovation, and are experts in uncovering churches' original architectural elements.
Uncovering the coffered ceiling was the most dramatic change. It had been there all the time but with the addition of blue paint in the center of each recessed panel, it served to bring out the vivid colors in the stained glass windows on the east wall.
All of the other changes included bringing back original paintings, carvings and religious statues that once had graced the original chapel, built when the school opened in 1961 and designed by Fr. Emmett Walsh, CSV, who was versed in Viatorian history.